For Immediate Release
| | |
| --- | --- |
| Title: | Global Sae-A's Decade-long Educational Endeavor in Haiti Bears Fruit: First Ever Graduation at S&H School |
CARACOL, Haiti, Sept. 5, 2023 /PRNewswire-HISPANIC PR WIRE/ — In a remarkable milestone that underscores a decade of transformative impact, the inaugural graduation ceremony of S&H School, established in 2013 by Global Sae-A in Caracol, northern Haiti, has marked a turning point in the nation's educational landscape.
This year, a cohort of 47 students stands on the cusp of the future, having completed their journey through S&H School's comprehensive educational program. These graduates stand as a testament to the remarkable power of free, high-quality education offered over ten years, encompassing their entire scholastic journey from elementary to high school.
Of these graduates, 11 have successfully secured employment, while 36 are primed to continue their studies at universities, showcasing the potency of S&H School's holistic approach. Last year, Global Sae-A pioneered internships for aspiring graduates at Sae-A Trading's international branches, providing a seamless transition into society.
Attending in person were Global Sae-A Chairman and school founder WK Kim, Global Sae-A CEO KM Kim, Haiti government officials, Director of the Regional Ministry of Education, and local community leaders, as well as a bevy of international stakeholders connected virtually.
Amidst Haiti's economic challenges since the 2010 earthquake, compounded by an unstable environment, Global Sae-A's unwavering commitment has extended beyond education to encompass epidemic prevention initiatives and significant medical volunteering. With a firm belief that education is the catalyst for national development, S&H School emerged as a cornerstone in the reconstruction process in 2013.
Initially established as an elementary school through collaboration with the Korea International Cooperation Agency (KOICA), S&H School's subsequent expansion to include secondary education in 2017 transformed it into a premier comprehensive institution. A meticulously crafted curriculum, elite faculty, multilingual subjects, and a focus on nourishing growth through balanced meals have made S&H School a unique educational haven in Haiti.
Uniquely, S&H School provides free tuition, books, supplies and lunches, a distinction setting it apart as one of the sole institutions in Haiti offering this provision. The incorporation of Hangul as an official curriculum subject since 2018 exemplifies Global Sae-A's commitment to cultural exchange, fostering a vibrant educational environment. Additionally, orchestral music education enriches students artistically.
With approximately 700 students across 28 classes spanning kindergarten to high school, S&H School's impact reverberates widely. Global Sae-A Chairman WK Kim, the school's founder, expressed his pride in witnessing the small educational seed sown in Haiti a decade ago flourishing into empowered individuals poised to shape Haiti's future.
Chairman Kim stated, "I urge our graduates to embrace their potential and embrace 'courageous challenges,' an ethos integral to Global Sae-A's values, thereby becoming agents of transformation in Haiti's history."
Global Sae-A's profound impact transcends the realm of education, resonating powerfully through its extensive humanitarian initiatives worldwide, under the aegis of the Sae-A Foundation. These endeavors stand as a testament to the company's unwavering commitment to global welfare.
Notably, the Sae-A Foundation's compassionate reach manifested significantly in responding to urgent crises. In the aftermath of the devastating wildfires that swept through Indonesia last year, the foundation orchestrated the distribution of thousands of masks and substantial quantities of essential sustenance, providing solace to those displaced by the catastrophe. Similarly, during the harsh throes of winter, the foundation extended a benevolent hand to those affected by the conflict in Ukraine. The provision of blankets and winter garments, valued at $2 million, offered both warmth and hope in the face of adversity.
Elevating its dedication even further, Global Sae-A, in partnership with the esteemed international NGO CORE (Community Organized Relief Effort) and its affiliate Ssangyong Engineering and Construction, earmarked an impressive commitment of $8 million for humanitarian aid. This comprehensive pledge encompasses diverse initiatives, including the financing of shelters tailored for Internally Displaced Persons (IDPs). The collaboration between these entities underscores a resolute drive to effect positive change in communities in need.
Expanding upon its ethos of corporate social responsibility (CSR), Global Sae-A extends its influence through subsidiary ventures in Haiti, Guatemala, Indonesia, and Vietnam. These localized efforts epitomize the company's endeavor to harmonize CSR strategies with specific community needs. Scholarships empower aspiring minds, visits to orphanages sow seeds of compassion, and environmental protection initiatives foster sustainable practices, all reflecting the company's holistic approach to conscientious business stewardship.
In summation, Global Sae-A's enduring impact traverses continents and scenarios, emboldening its status as a beacon of corporate benevolence. The amalgamation of education and humanitarianism underscores the company's mission to catalyze positive change on a global scale.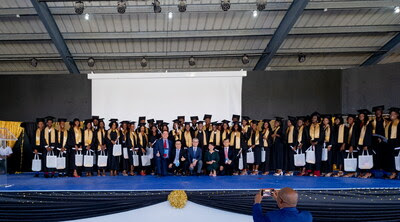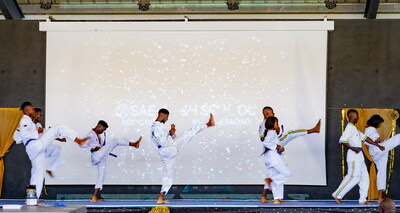 Photo - https://mma.prnewswire.com/media/2201049/1st_image.jpg
Photo - https://mma.prnewswire.com/media/2201050/2nd_image.jpg
Photo - https://mma.prnewswire.com/media/2201051/3rd_image.jpg