PORT OF SPAIN, Trinidad and Tobago, March 29, 2023 /PRNewswire-HISPANIC PR WIRE/ — Amerijet International Airlines, through its wholly owned subsidiary, Amerijet Caribbean Express Ltd., opened a new branch office in Port of Spain, Trinidad, on March 28, 2023. Amerijet Caribbean Express Ltd. has been successfully operating at the Piarco International Airport for over 22 years. Recent legislation passed by the government of the Republic of Trinidad & Tobago to encourage foreign direct investment will eventually allow for the establishment of special economic zones. In anticipation of the legislative change, Amerijet is moving forward with its expansion plans, focusing on hiring skilled and experienced labor in Trinidad & Tobago. Trinidad's proximity to the United States, common language, and close time zone will allow the new Amerijet branch office to handle various financial and management functions and report directly to Miami's headquarters.
"Amerijet made a strategic and targeted investment. We see great opportunities to continue the growth of our Shared Services Center into the future. Since the start of our air cargo operation in 1991, we have provided Trinidad with uninterrupted service for the past 32 years using a third-party handling company prior to investing in our subsidiary Amerijet Caribbean Express in 1995. Our airline has grown from one B727-100 to a fleet of 23 B767 and B757 freighters. Today, we serve Trinidad with a minimum of four flights per week; we employ more than 20 people at the Piarco International Airport, and we have built amazing business and personal relationships over the years," said Joe Mozzali, Amerijet's CFO. "We appreciate our customers here in Trinidad, and we will continue supporting and investing in the region. We are here to stay and to grow with our customers; the sky is the limit."
Amerijet's Director of Revenue Accounting, John Hagan, will manage the Trinidad branch office. John joined Amerijet in mid-2021 and has been actively engaged in several areas of Amerijet's Finance and Accounting Departments, in addition to implementing new systems and processes to streamline these functions and prepare for scalability. "Following a review of different locations, we identified Trinidad as the ideal location for a regionally located service center. We wish to grow our longstanding relationships with the local government, our loyal customers, and we see the potential of hiring skilled and committed people to build the solid foundations for the continued growth of Amerijet," said John Hagan.
The Shared Services Center in Port of Spain consists of 54 individual workstations covering seven distinct departments, with four management offices and two conference rooms. Two independent internet service providers have been contracted to supply seamless connectivity between the Shared Services Center and Amerijet's Miami headquarters.
The opening of the Shared Services Center is the latest example of Amerijet's commitment to streamlining processes and creating best-in-class services for its customers. As Amerijet continues to pursue and execute its growth strategy in the region, the Shared Services Center will integrate and collaborate seamlessly with its worldwide offices.
More About Amerijet:
With almost 50 years of experience in the air cargo industry, Amerijet operates its dedicated fleet of freighters from its primary hub at the Miami International Airport to destinations throughout the Caribbean, Mexico, Central America, South America and Europe. Amerijet's portfolio of worldwide scheduled, long–term and short–term ACMI and CMI charter services provide seamless and transparent transportation solutions for customers shipping time-sensitive, valuable, hazardous material, temperature-controlled, and other commodity types.
More information about Amerijet can be accessed at www.amerijet.com.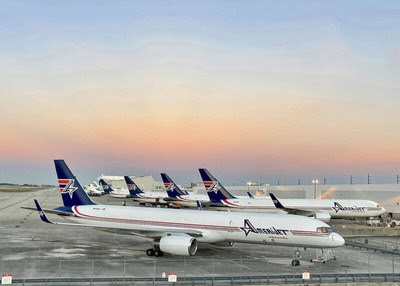 Photo - https://mma.prnewswire.com/media/2043333/Amerijet_International_Airlines_new_branch_office.jpg
Photo - https://mma.prnewswire.com/media/1763558/Amerijet_1.jpg
Click Here for More Information »